AUSTIN, Texas – Joseph Bray is a retired banking executive who can look back on his long career and pinpoint one pivotal moment that spurred him toward success: being drafted into the U.S. Army during the Vietnam War.
Vietnam Veteran encourages youth to consider opportunities afforded by the Army
Prior to taking his oath of enlistment in June of 1970, Bray, who was 19 years old at the time, had struggled to adjust to post-high school life in Wisconsin.
"I tried college after high school, and I failed. I found a job that didn't turn into a meaningful career, quietly waiting to be drafted," he said.
Bray then received notice of his selection for the draft. After enlisting in the Army and completing Basic Training, NCO School and Advanced Individual Training at Fort Polk, Louisiana, he deployed to Vietnam as an infantry Soldier.
Given the fluid situation on the ground, Bray – who is 6 feet, 4 inches tall and weighed about 215 pounds at the time – was quickly selected to serve as a member of the Military Police, a role he ended up fulfilling for the majority of his 13-month deployment.
He left the Army in December 1971, after completing his service commitment, but credits the influential experience with shaping his life's trajectory.
"I have the need and the desire to give back because of what the Army gave me," Bray said.
As a young Veteran, Bray was able to access the GI Bill, which paid for him to attend university and later obtain a master's degree in finance. The access to education, as well as acquired discipline, helped him become a leader in his field and in his community.
"I only reached the rank of Specialist 4 while I served," Bray said, explaining that despite being a short-term member of the Army, his journey as a Soldier and the benefits he was provided following his service were instrumental to his personal and professional growth.
"I ended up having a very rewarding career in banking, a result of the education I received through the GI Bill benefits the Army provided me, receiving both my bachelor's and master's degrees," he elaborated.
Bray now resides in San Antonio, Texas, where serves as a Civilian Aide to the Secretary of the Army (CASA) for the South Texas Region, a broad area that includes Fort Sam Houston.
"I spend most of my time – through various organizations – supporting the United States Army."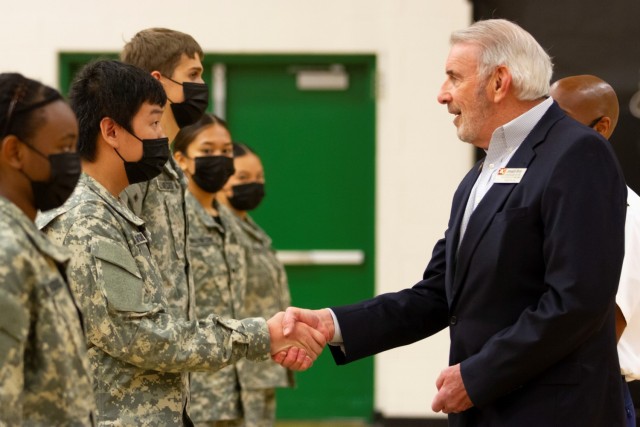 Sworn into the CASA position in January 2020, Bray has greatly enjoyed connecting with students, parents, teachers and other community members, frequently sharing insights into his own experiences in the Army as part of his contribution to current recruitment efforts.
"Recruiting is my number one priority. Even before coming a CASA, I recognized that in order to have a strong Army, you had to be able to recruit our country's best and brightest between the ages of 17 and 24."
He also sees how corporate America, the Army and academia have a robust presence in San Antonio and nearby Austin, and likes encouraging increased engagement among the different entities. CASAs can provide continuity of connectivity, Bray explained, noting that military and civilian organizations both have a meaningful role to play in ensuring the continued strength of the nation's armed forces and the local community.
"I'm always promoting and helping our community understand what our Army is all about," Bray said, adding that his work includes support for the Army Reserve and National Guard, as well as those who have transitioned away from the Army but remain Soldiers for Life.
Whether they are considering a career in the public or private sectors, Bray believes providing recent graduates and their parents with information on how the military can help further educational and occupational goals is important for informed decision-making.
"As long as they know what the options are available to them, then they can choose for themselves which is best," he said.
Bray emphasized that he wants students to be college-ready but also career-oriented, to know "what those opportunities are and what they look like."
He understands that joining the Army might not be the right path for everyone, but he sees serving one's country in the armed forces as an option with untold benefits for many.
"You have to be open and transparent to yourself to be able to realize what your options and opportunities are," Bray said.
"Be the best version of yourself you can be."
--
Students interested in serving in the Army while also completing their college education are encouraged to check out The Army Reserve Minuteman Scholarship, which provides full tuition and fees or room and board ($10,000 per year) for up to four years at a public or private school.
Businesses interested in supporting transitioning Soldier employment are encouraged to learn more about the Army's Partnership for Your Success (PaYS) Program, which guarantees Soldiers a job interview and possible employment after leaving the Army.
By Maureena Thompson, Army Futures Command