The United States Army Garrison Fort Buchanan, the only federal military installation on the island and the Department of Defense center of gravity for the Caribbean, is committed to ensuring the health, safety and security of our community - Soldiers, Service Members, Family Members, Retirees, Veterans and Civilians who live, work, and train at our installation.
This page is dedicated to US Army Garrison Fort Buchanan, Puerto Rico, Hurricane Preparedness and Response. The Atlantic hurricane season begins yearly June 1st and runs to November 30th. It geographically covers the Atlantic basin, which includes the Atlantic Ocean, Caribbean Sea, and Gulf of Mexico.
2022 HURRICANE FORECAST
*Below is information from National Oceanic and Atmospheric Administration (NOAA) Atlantic Hurricane Season forecast, August 2022.
NOAA forecasters have slightly decreased the likelihood of an above-normal Atlantic hurricane season to 60% (lowered from the outlook issued in May, which predicted a 65% chance). The likelihood of near-normal activity has risen to 30% and the chances remain at 10% for a below-normal season.
HOW MANY HURRICANES ARE EXPECTED?
NOAA's update to the 2022 outlook — which covers the entire six-month hurricane season that ending November 30 — calls for 14-20 named storms (winds of 39 mph or greater), of which 6-10 could become hurricanes (winds of 74 mph or greater). Of those, 3-5 could become major hurricanes (winds of 111 mph or greater). NOAA provides these ranges with a 70% confidence.
Atmospheric and oceanic conditions still favor an above-normal 2022 Atlantic hurricane season, according to NOAA's annual mid-season update issued today by the Climate Prediction Center, a division of the National Weather Service.
As with every hurricane season, the need to be prepared is critically important this year.
"Social distancing and other CDC guidance to keep you safe from COVID-19 may impact the disaster preparedness plan you had in place, including what is in your go-kit, evacuation routes, shelters and more. With tornado season at its peak, hurricane season around the corner, and flooding, earthquakes and wildfires a risk year-round, it is time to revise and adjust your emergency plan now," said Carlos Castillo, acting deputy administrator for resilience at FEMA. "Natural disasters won't wait, so I encourage you to keep COVID-19 in mind when revising or making your plan for you and your loved ones, and don't forget your pets.
The 2022 Atlantic Hurricane Season for Puerto Rico is running concurrently with the COVID-19 world-wide pandemic. Because of this there will be items repeated from the COVID-19 page as reminders, particularly in the realm of health and safety.
BELOW IS A LIVE FEED FROM THE NATIONAL HURRICANE CENTER TROPICAL WEATHER OUTLOOK FOR REAL-TIME INFORMATION
National Hurricane Center Graphical Tropical Weather Outlooks https://www.nhc.noaa.gov/ none nhcwebmaster@noaa.gov (NHC Webmaster) en-us nhcwebmaster@noaa.gov (NHC Webmaster)
<![CDATA[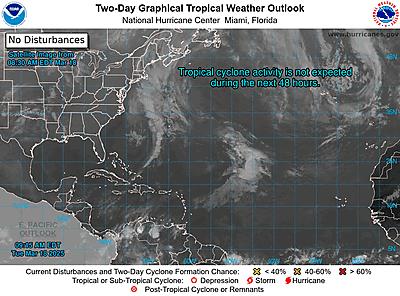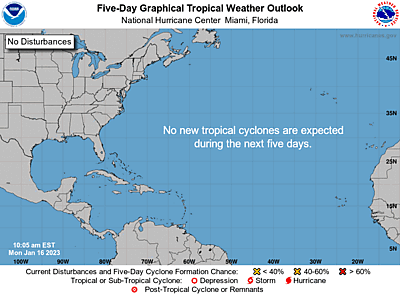 (Page last updated October 28, 2022)
The following links provide information on Hurricane Preparedness, Response and USAG Fort Buchanan guidelines during this type of emergency.
HEALTH
The following are official web sites:
Click here for:
Los siguientes enlaces son en español:
SAFETY
Click here for:
SECURITY
Click here for: