By Alexandra Shea, Fort Jackson Public Affairs
"Today marks a momentous day in our American story as we honor great men and women who have stepped forward to defend our nation," said Brig. Gen. Patrick R. Michaelis, Fort Jackson commanding general. "On the 11th hour on the 11th day in the 11th month in 1918, the guns fell silent as an armistice came into being. In that moment the great war we know as World War I that had raged from 1914 until 1918 ended."
Michaelis kicked off Fort Jackson's support of local area Veteran's Day events by speaking to University of South Carolina alumni and veteran student body during a breakfast hosted by the university at Russel Hall Nov. 11.
Service members of all branches representing conflict eras as far back as the Vietnam War were treated to a full spread of hot and fresh breakfast items to celebrate and show thanks for their service to the nation and its people.
Michaelis, the 282nd Army Band and others from the Fort Jackson community met the South Carolina National Guard Adjutant General Maj. Gen. Van McCarthy downtown to march in the annual Veteran's Day parade.
McCarthy led the parade and was followed closely by Michaelis, the band, more than 250 Soldiers and cadre members, and students from Pierce Terrace and C.C. Pickney Elementary Schools to show their appreciation and support to the many veterans that lined Assembly Street.
"If I could say something to our veterans I would say thank you for paving the way for people like myself. On behalf of myself and everyone here, we are going to finish the race you have already started," said Spc. Kelly Smith, a human resources specialist assigned to the 369th Adjutant General Battalion. "Once a service member, always a service member. I am happy to be a part of this Family."
Despite the sprinkling of rain, the parade made its way through downtown to the routes end near the Columbia State House. Though the parade successfully concluded, the day of events were far from over.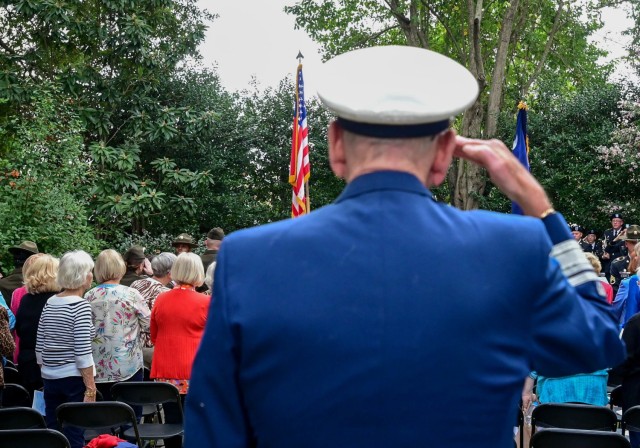 Restaurants and stores across the city offered Soldiers and veterans meals free of charge and discounts while shopping locally.
Further into the heart of Columbia, Michaelis, the 282nd Army Band and a color guard team composed of drill sergeants attended another event hosted by the Garden Club of South Carolina's Memorial Garden on Lincoln Street.
The garden, establish in 1945, honors World War II veterans, is adorned with a fountain, bricks bearing the names and branches of those veterans and loved ones who were killed in action during the war and overlooked by a statue of a Saint Francis of Assisi.
"Our Soldiers, sailors, airmen and Marines are guardians representing the very best our nation has to offer," Michaelis said. "They carry on the proud legacy and traditions of American veterans who have kept us free. We say thanks to them all."